The Chalice Symphony
The Chalice Symphony is a quartet of instruments I designed for a performance with Cold War Kids as a commission from Stella Artois. Each instrument uses Stella Artois's iconic chalice to make music in a different way — bowing them, striking them, using them as tuned resonators, or using their shapes to form vowels in vibrating columns of air.

They are designed to musically complement each other with a variey of timbres, pitches, and expressive features. I designed three of the four instruments to have roughly the proportions of a person so they would feel like a family of characters. Here is the little family together.
The Pyrophone
The Pyrophone works a bit like a pipe organ. It has long, carefully-tuned tubes which resonate at specific frequencies. In an organ pipe, the initial turbulent energy comes from a reed or from a whistle-like structure called the mouth. But in a pyrophone, it's the flame itself that vibrates — much like the reed of a saxophone. It's a uniquie oscillator that produces a uniquely deep and rich sound.


Testing the Fit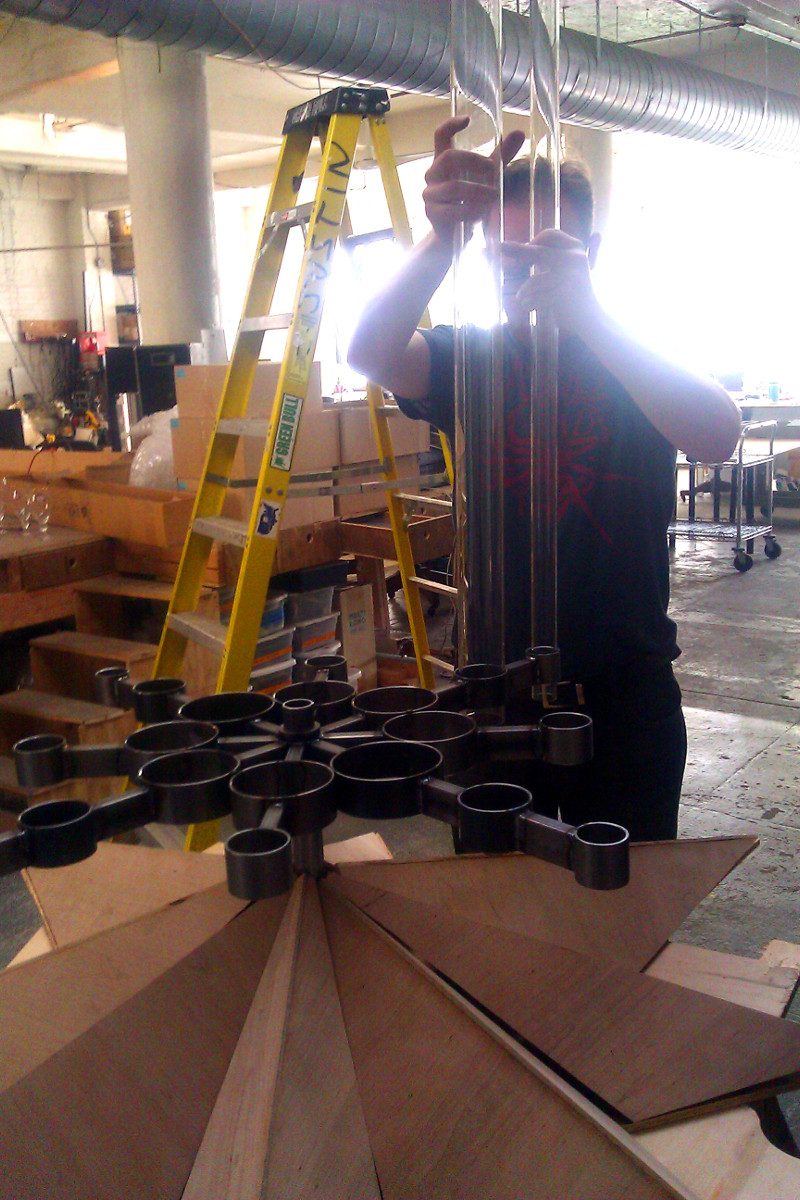 All Assembled in the Studio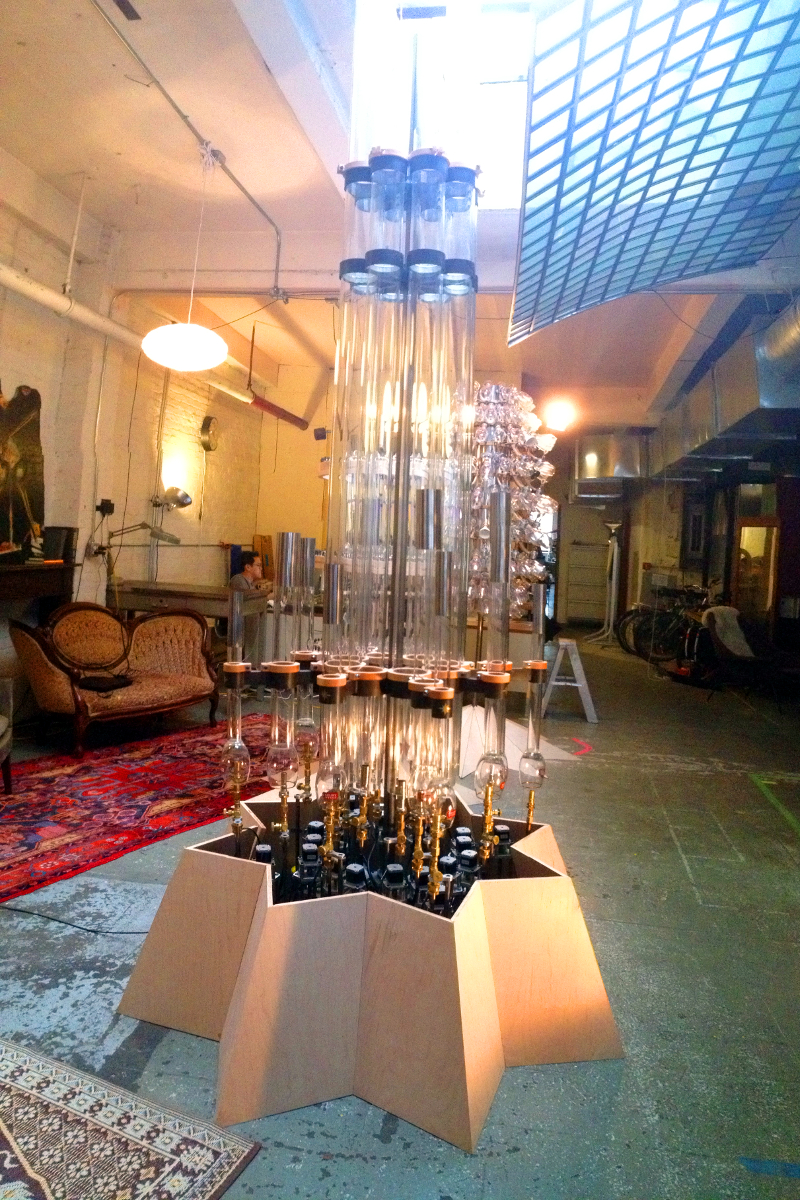 Ready for Testing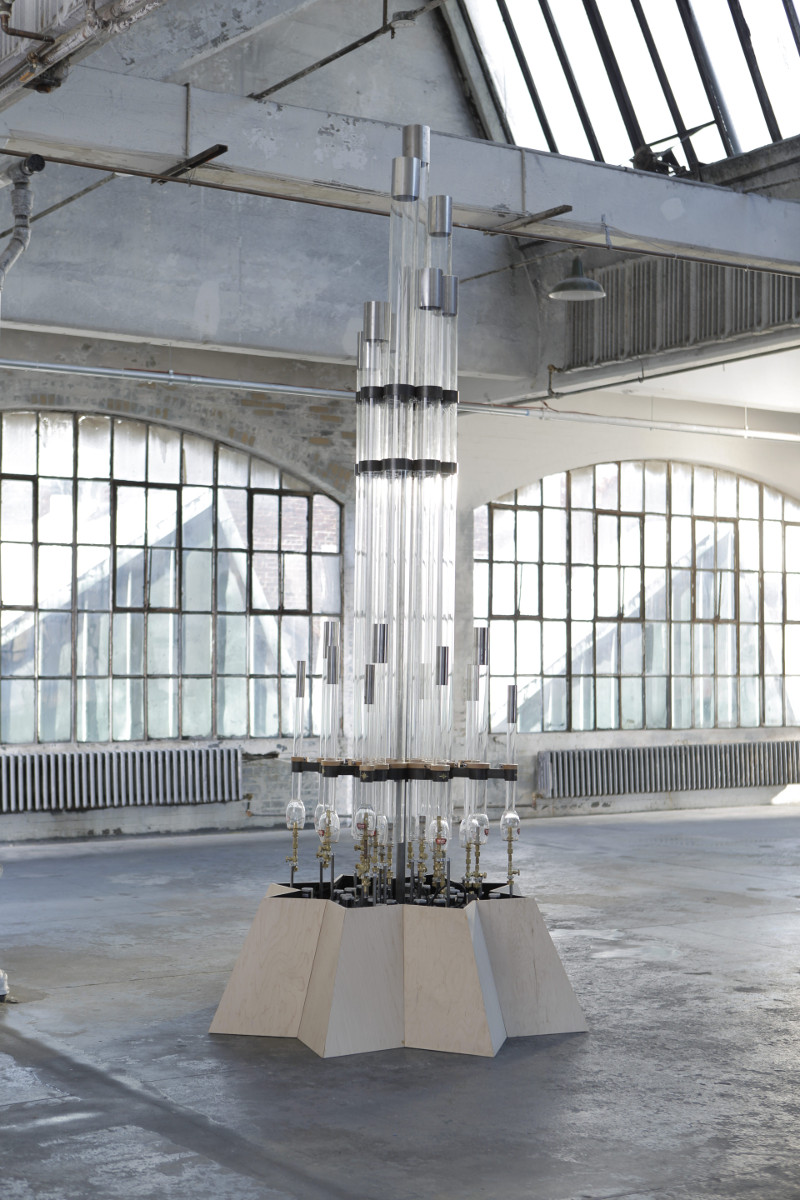 Smoke Tests
Much like early humans, our first challenge was learning to control fire. Karl did a brave job of creating electromechanical valves to control the flow of low-pressure propane gas. We learned that we would need high pressure gas to make these tubes sing — and that controlling high-pressure flammible gas with homemade technologies was too dangerous for even us.


Karl's Original Flame-a-tron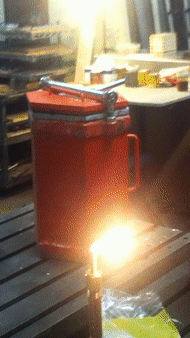 Early Flame Tests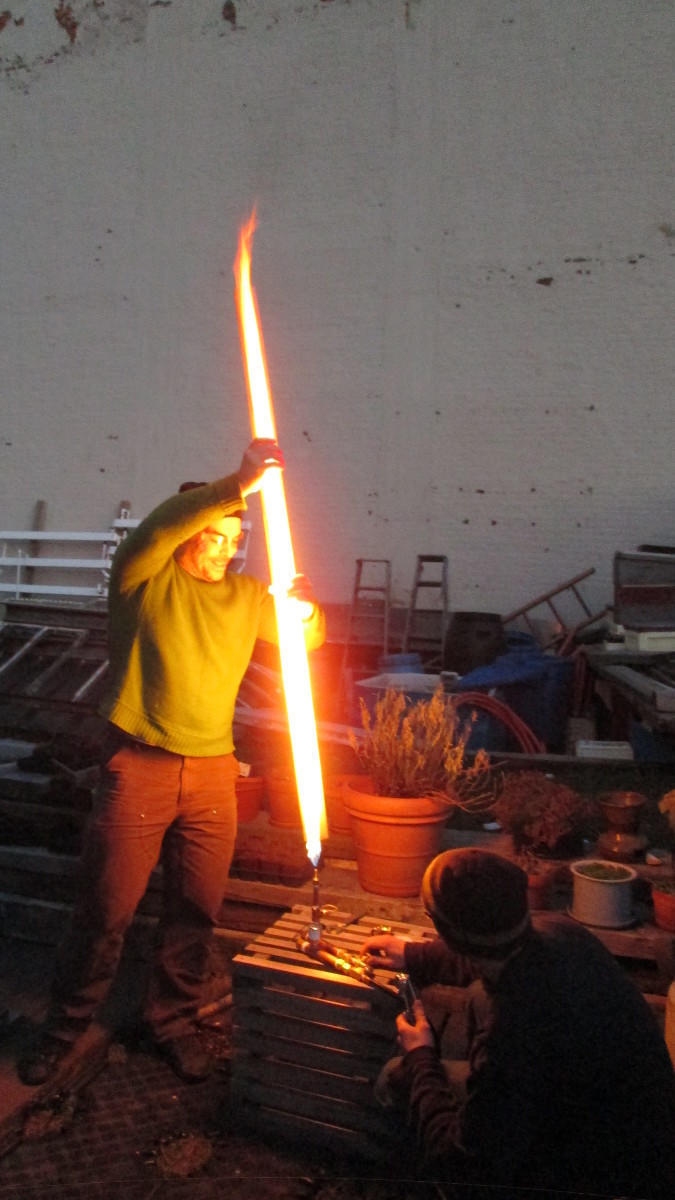 Motorized Actuation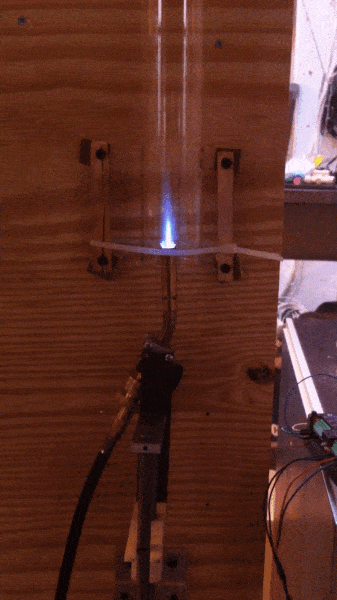 The Hupfeld
The Hupfeld plays music by bowing tuned Stella Artois chalices with a circular bow of Mongolian horse hair.

The Hupfeld is named in a tribute to the inspirition behind its circular bows — Ludwig Hupfeld's Hupfeld Phonoliszt Violina, a violin-playing player piano from 1907.
Assembling a Horse Wheel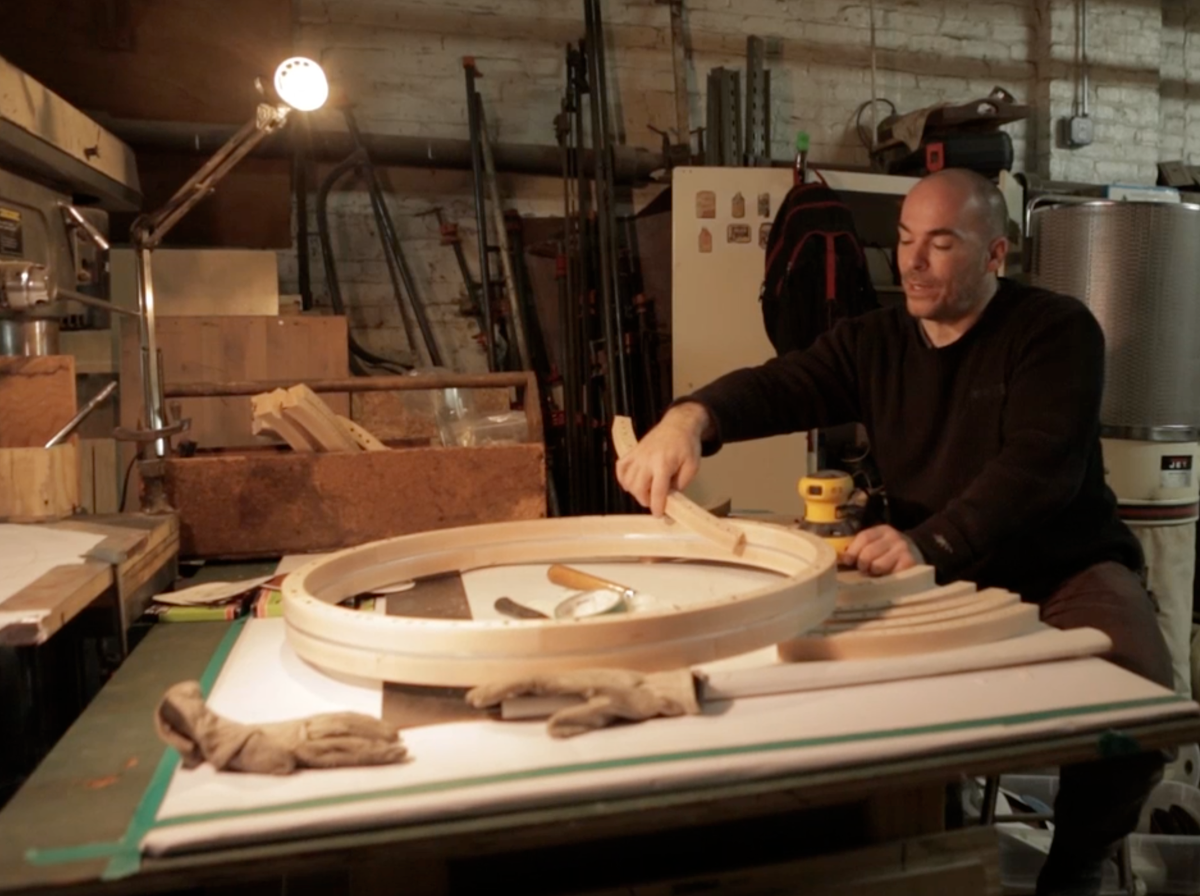 A Completed Horse Wheel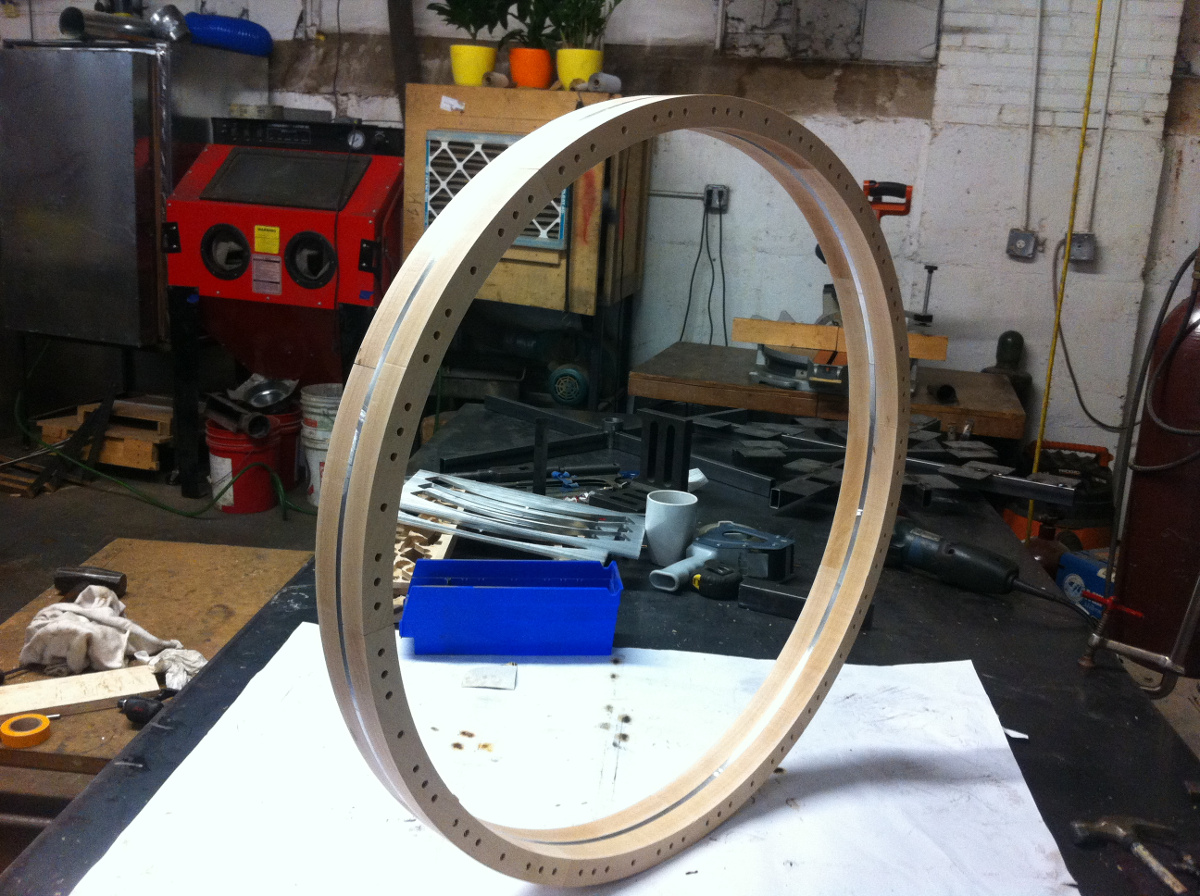 Adding Tuning Pins for the Horse Hair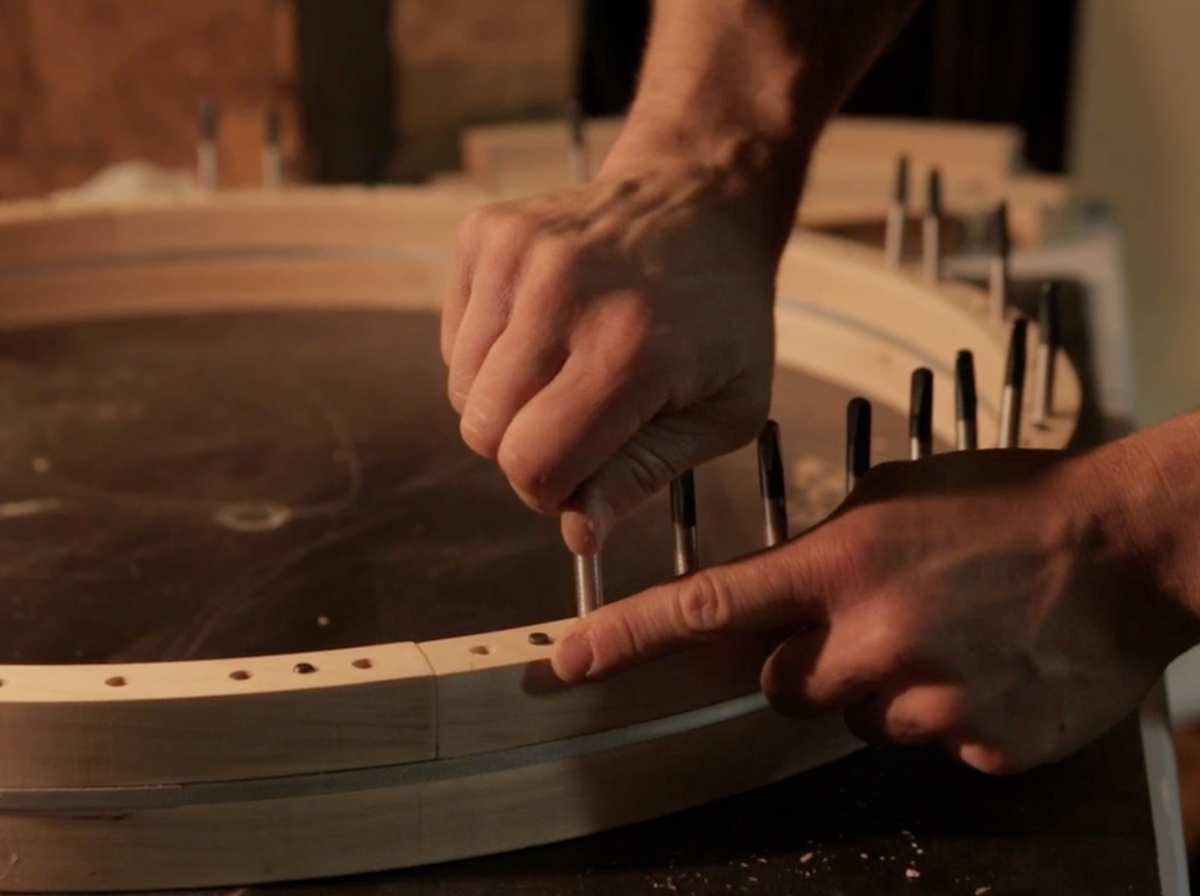 The Motion Test
Here is its first motion test before all of that glass was added.


Musical Tests
Each of its eighteen chalices has three distinct voices, depending on how it is bowed. The performer can play an octave and a half of pitched and can control the speed and pressure of the bow to change the voices and timbres. So one note can be stretched out into a highy dynamic phrase. And notes can be combined into shimmery chords.


First contact with the ever-curious Cold War Kids.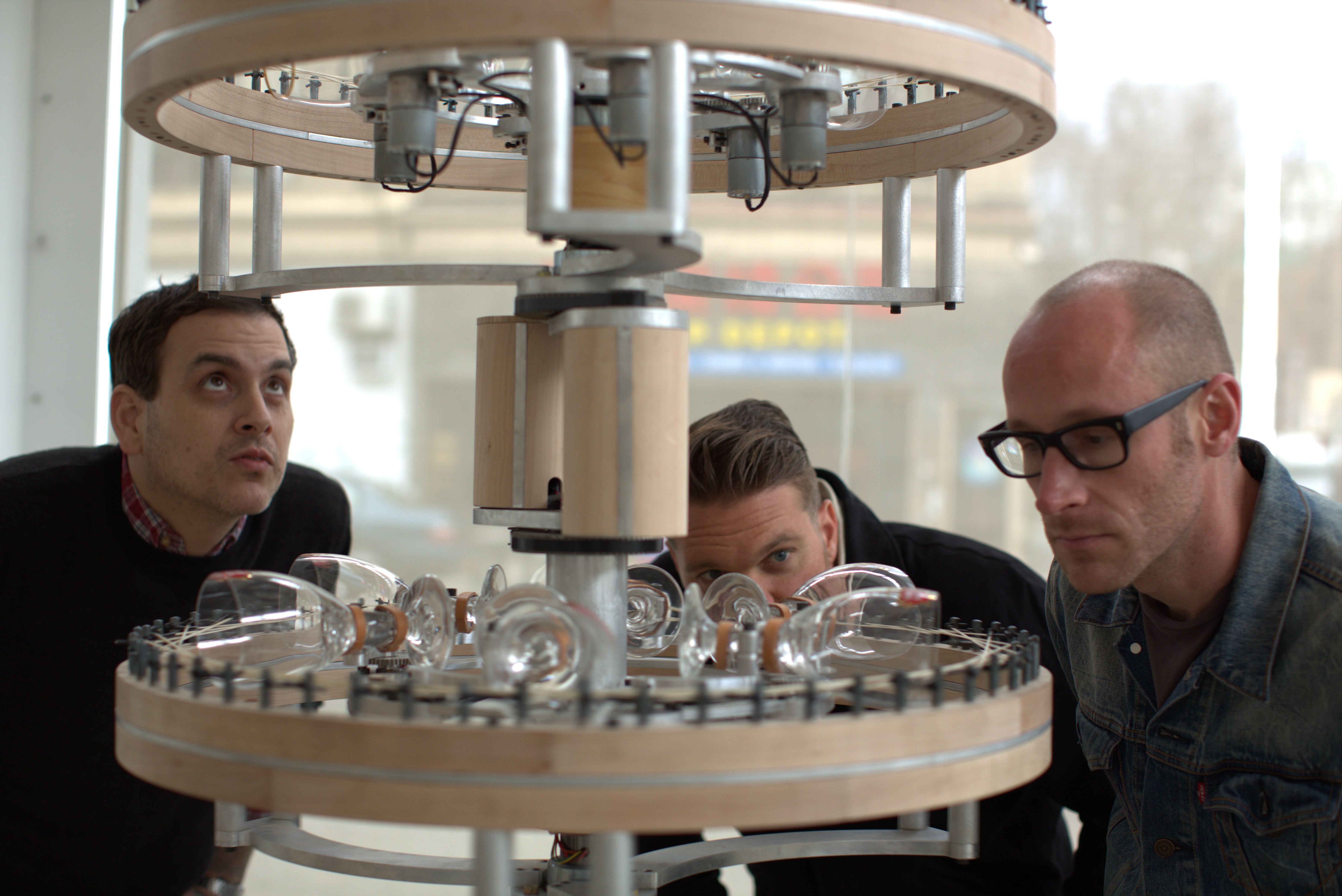 The Hive
The Hive creates music with glass bells made from Stella Artois chalices. They are played with electronically actuated piano hammers, which support loud and soft playing. An octave and a half of steel bells are added for extra timbral range.


With Cold War Kids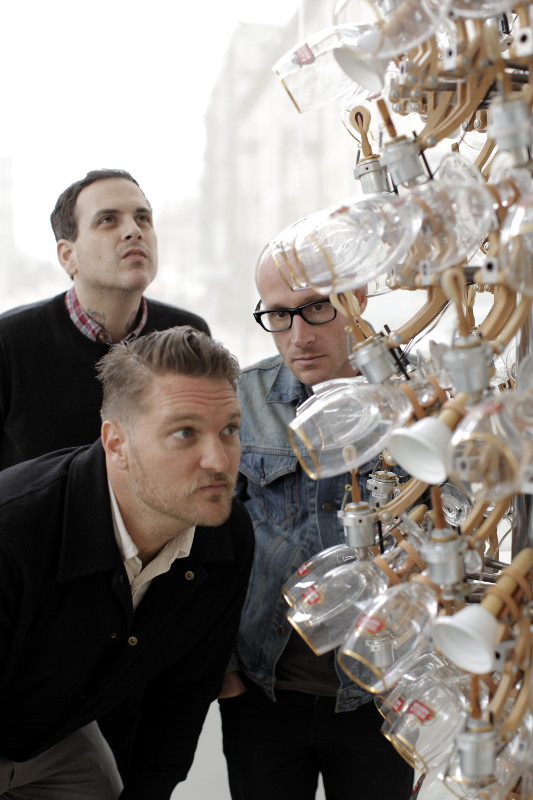 Long and Tall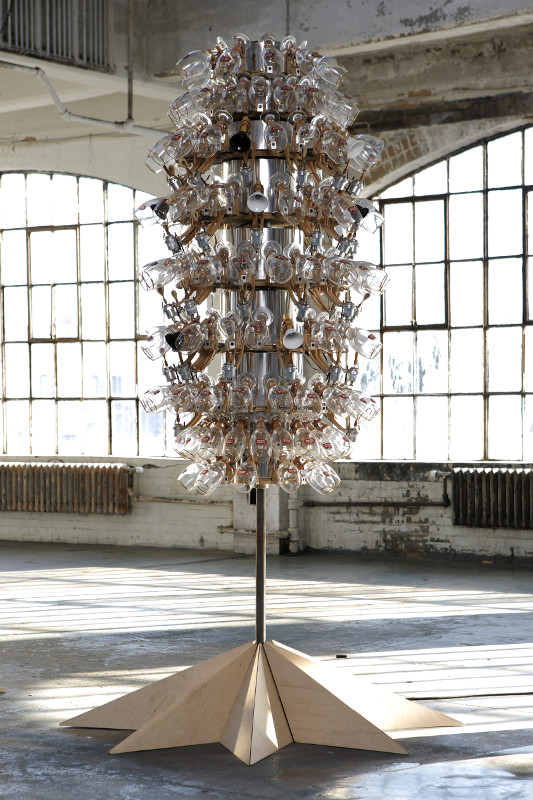 Wake Up and Smell the Hive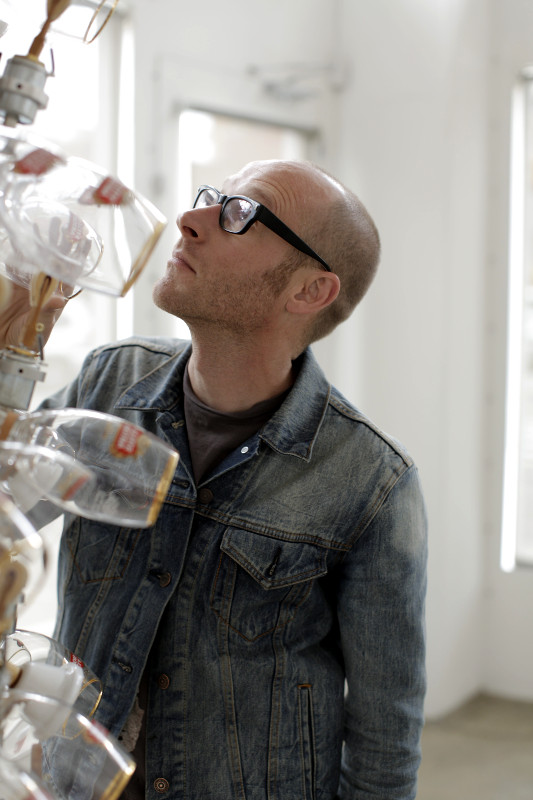 Electrical Tests
This video shows a late-night musical test of the Hive's electrical systems.

The music is an arbitrary test sequence but sounds delightfully creepy.

Hence the knife.
First Actuator Prototype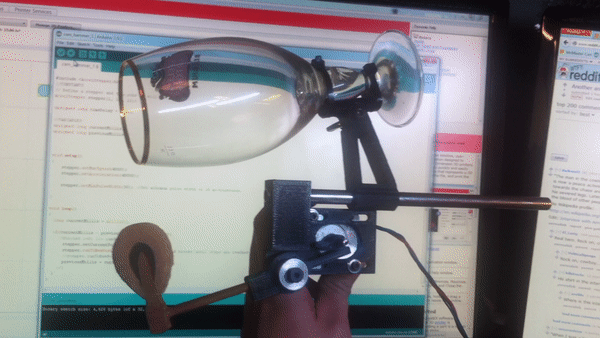 Second Actuator Prototype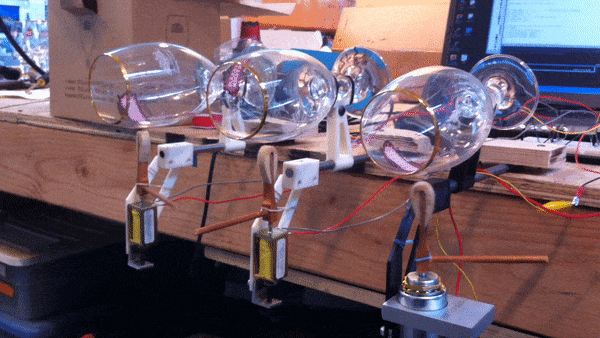 Final Actuator Prototype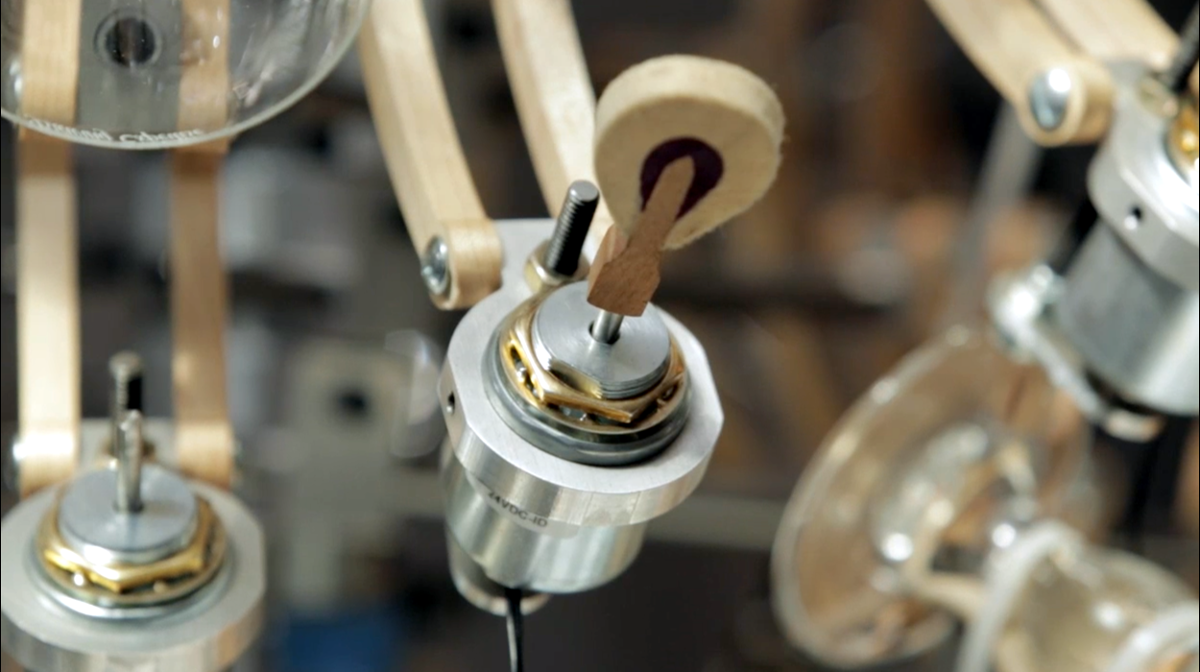 All Hands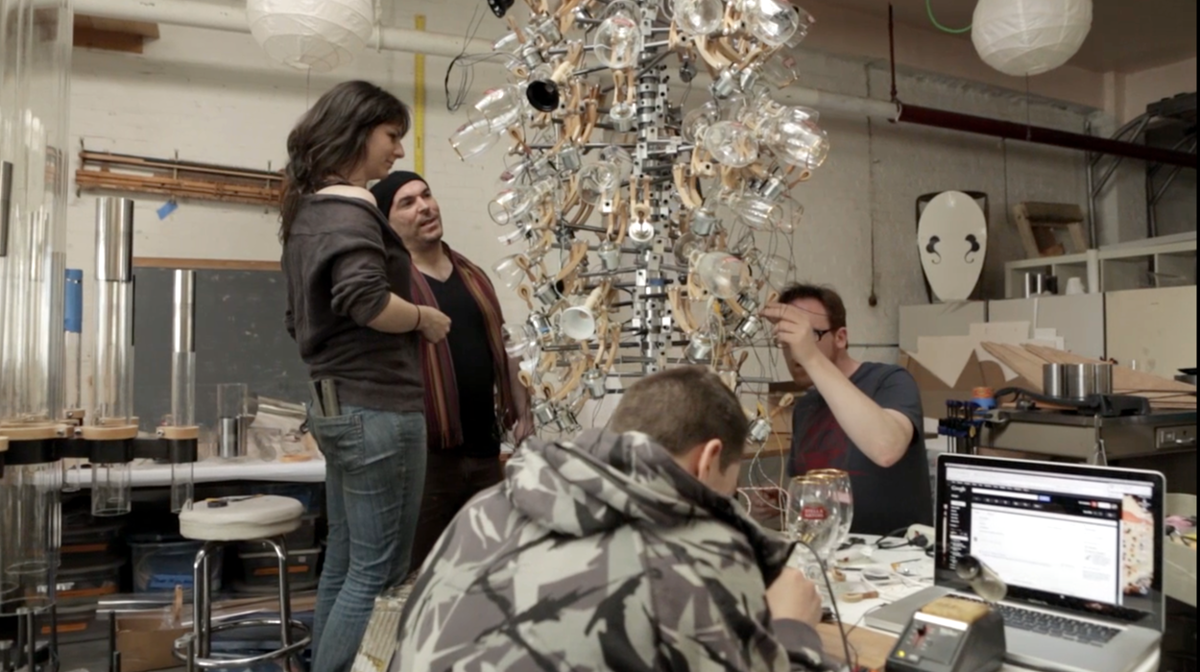 A Forest of Wiring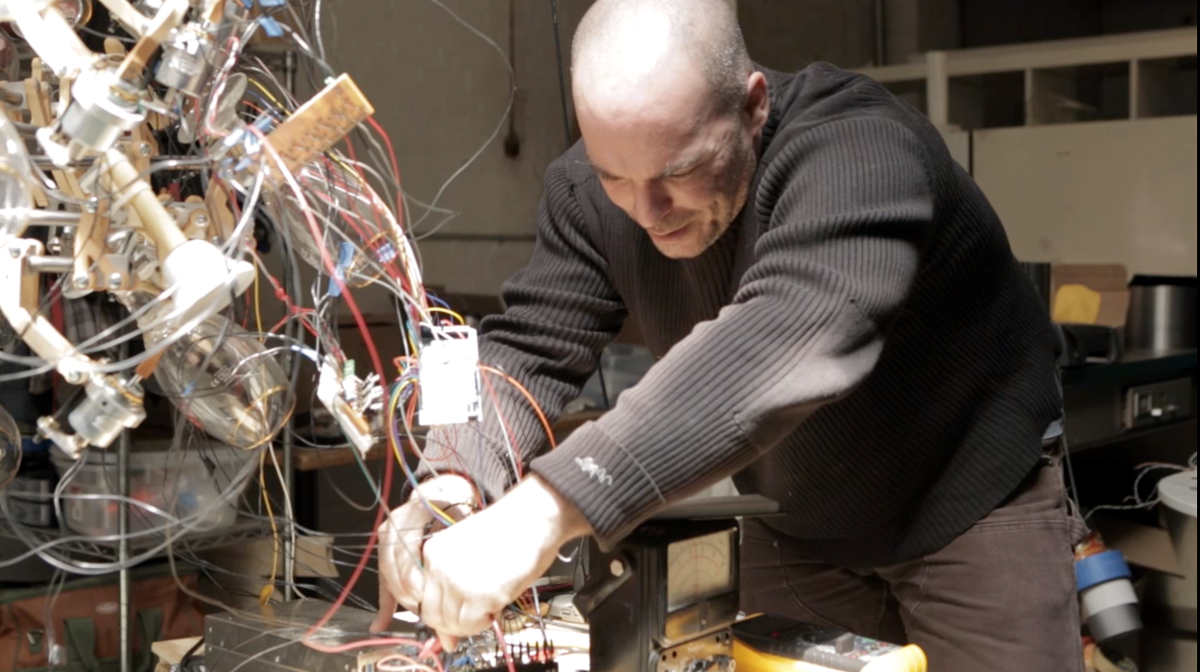 Nick Testing Like a Rock Star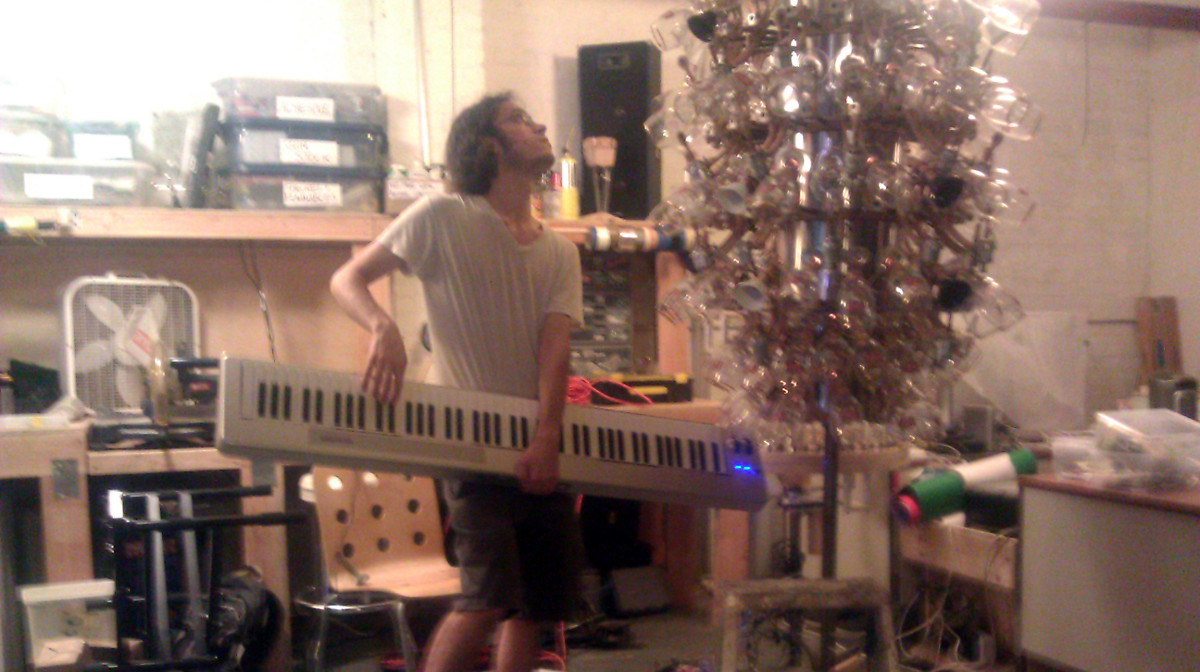 The Star Harp
In honor of the Stella Artois star, the Star Harp is a self-playing harp inspired by orreries, old mechanical models of the motions of the planets around The Sun. It uses the stem of the chalice as a bridge and the bowl as a resonator.

Five robotic arms orbit a hyperboloid harp and play music in a hypnotically choreographed dance.
Production
All of this precise machinery was built in an old-fashioned DaVinci mode. Everything was made with hands, drawings, calculations, and custom-made tools. Here, Marina is making the insides of the gears perfectly round.


Building the Harp Resonator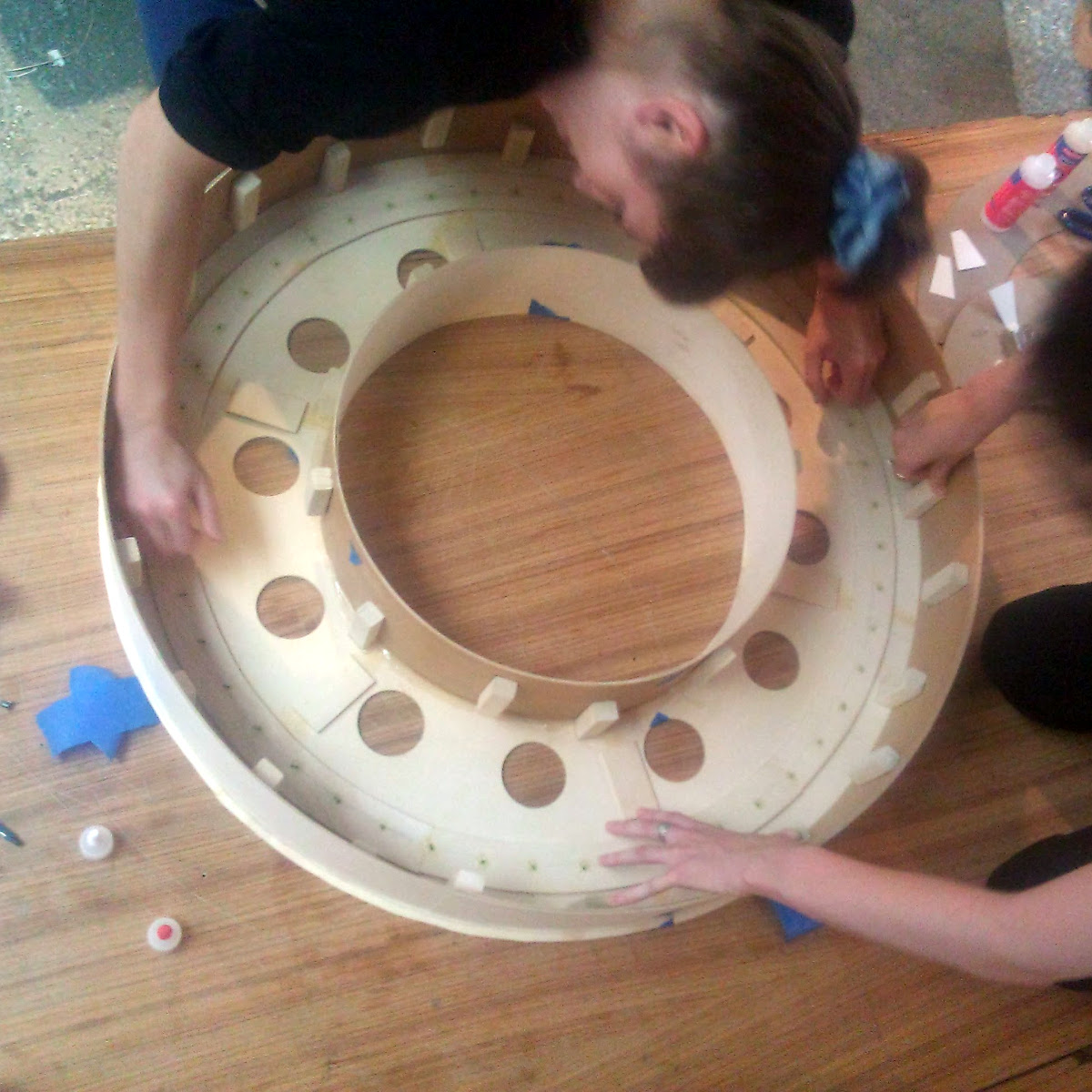 Making the 72" Gear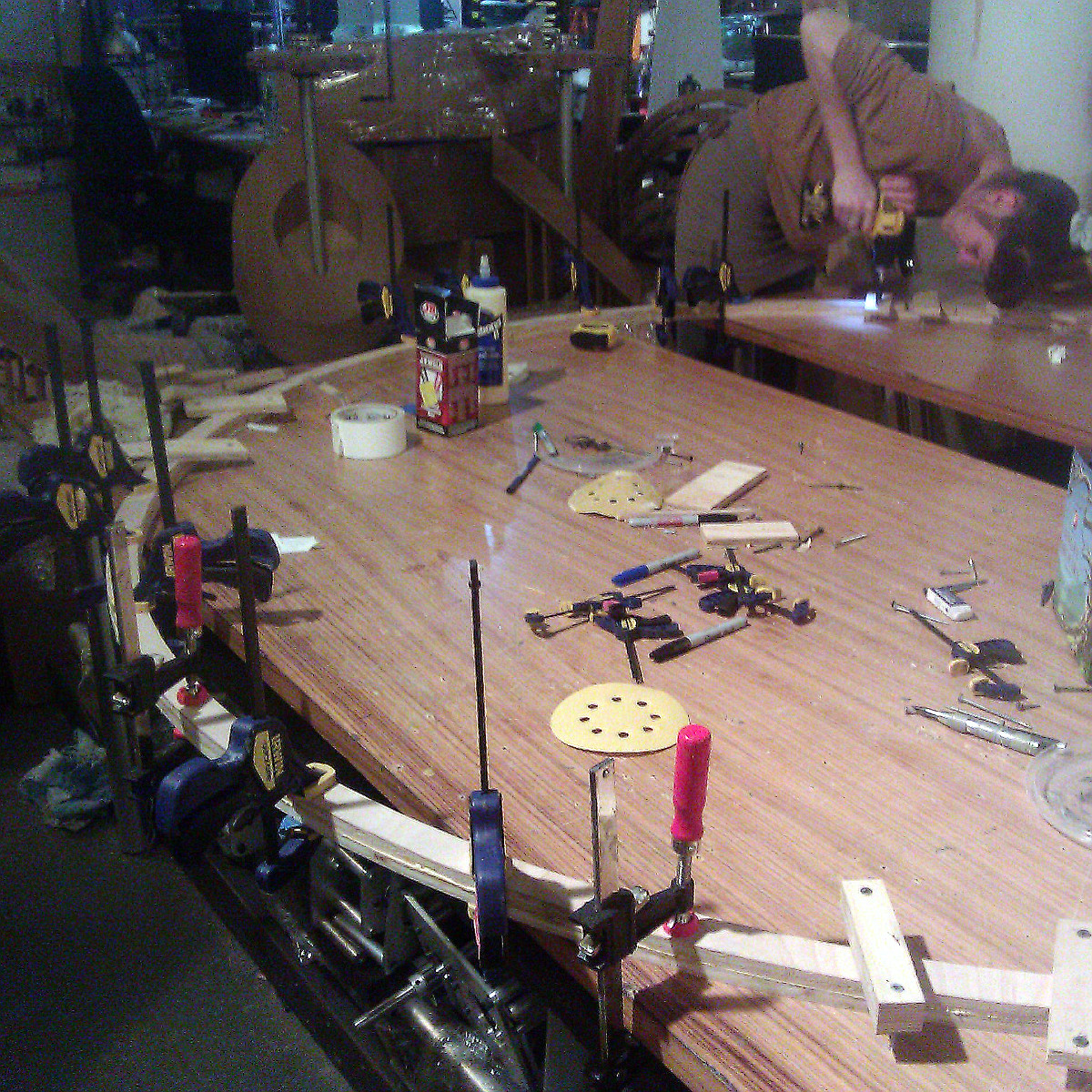 Motion Tests
The Star Harp was the most complex instrument in the Chalice Symphony. Fifteen concentric gears move independently to control five arms. Its finished version lacks proper documentation. But these early motion tests suggest how it worked.